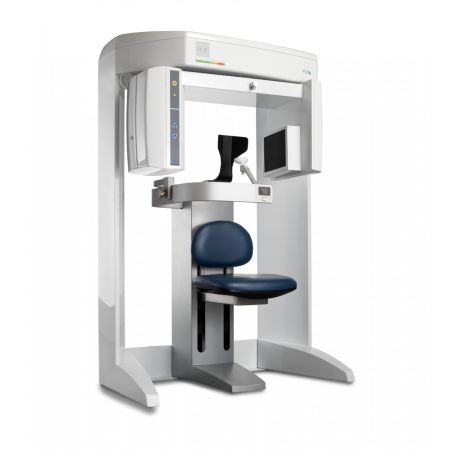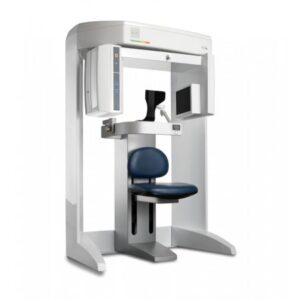 3D Imaging
Cone Beam CT
The I-CAT system gives our oral and maxillofacial practice state-of-the-art technology to help our doctors diagnose potential issues more accurately and provide treatment with unprecedented confidence. Unlike a traditional spiral CT scanner, this 3D system utilizes cone beam CT technology and provides precise, crystal-clear digital images while minimizing your exposure to radiation.
Our new 3D system enables us to perform a wider range of diagnoses and treatments in our office, helping to reduce multiple visits. The I-CAT scanner allows us to choose the field of view, or scanning area, that best suits your specific treatment needs. This helps to limit your radiation exposure because we are focusing specifically on your area of concern.
The I-CAT  system brings the latest 3D technology to Oral Surgery Michiana, providing unmatched visualization of anatomical detail which aids in treatment planning and helps us to better explain the particulars of your case, as well as address any questions you may have. Our doctors, Dr. Collins, Dr. Hull, and Dr. Nizza, can use this innovative technology to quickly and easily share 3D images of the area of concern with your referring doctor – allowing the doctors to collaborate on your care, improving your experience, and delivering a positive treatment outcome.
Medit Intraoral Scanning
The Medit dental scanners connect to a computer and make scanning more convenient and comfortable. Rather than have to sit still while a bulky machine takes scans of your face, you only need to lie back in our examination chair while one of our oral surgeons passes the Medit tool over your target area.
Gone are the days of uncomfortable and messy mold impressions; digital scans have revolutionized the process, providing a clean, quick, and precise alternative. Using cutting-edge technology, these scans capture detailed 3D images of your teeth and gums in minutes, ensuring a more accurate and efficient treatment plan. Medit Intraoral Scanners allow our team to get close to your problem and get high-resolution images of your teeth.
Intraoral Photography
Intraoral photography takes images inside your mouth, leading to more accurate and detailed images. We can clearly see your unique tooth structure and soft tissue, which helps us better understand your needs and develop a more customized treatment plan. Additionally, intraoral imagery helps us communicate complex ideas to our patients. Serving as visual aids, we use the pictures to walk patients through our findings and highlight how treatment will benefit them.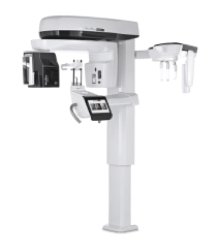 Digital X-Rays
We utilize two types of digital X-rays at Oral Surgery Michiana to create comprehensive patient profiles. By relying on the latest X-ray technology, we are able to get the most accurate visuals of your mouth and jaw, right down to the root and bone.
Nomad X-Rays (Portable)
The handheld Nomad Pro 2 is a portable digital X-ray tool that lets us conveniently position the device at precise locations. The Nomad is equipped with two shielding features that protect you from radiation, and the top-of-the-line imaging tools lead to crystal-clear dental X-rays that highlight your teeth and jaw in vivid detail.
Because the Nomad is a handheld device, you get to sit with your X-ray technician during the process. For patients who are afraid of the dentist or experience anxiety during X-rays, using the Nomad helps us calm your nerves and feel more comfortable during the process. Thanks to its portable technology, the Nomad also helps us take more accurate X-rays, so you don't have to worry about retaking them if you accidentally move while capturing images.
Panoramic X-Rays
A panoramic x-ray gives us a 360-degree visual of your mouth. We can see how all of your teeth align and identify problems that are not easily visible with other types of X-rays.
Using a panoramic X-ray allows the oral surgeon to see more than just your teeth and their roots. We get a complete image of your upper and lower jaws, your temporomandibular joints (TMJ), as well as your nasal passages and sinuses.
Thanks to this extensive imaging technique, we can identify problems such as bone abnormalities, tumors, impacted wisdom teeth, fractures, and more. A panoramic X-ray can also be vital in understanding the depth of an infection, so we can provide the appropriate level of treatment.
The Cube by Piezotome®
The Piezotome® Cube is a state-of-the-art ultrasonic device used in various oral surgery procedures. This revolutionary technology uses ultrasonic micro-vibrations to perform precise and safe cuts in the bone while preserving soft tissue. This is particularly useful in procedures like wisdom teeth extractions, dental implant placement, and bone grafting.
The use of the Piezotome® Cube offers numerous benefits to our patients. It significantly reduces post-operative discomfort and swelling and promotes faster healing. The precision it offers ensures minimal impact on surrounding tissues, leading to less invasive surgeries and improved clinical outcomes.
SmoothWave i100 Generator
The SmoothWave i100 Generator is a cutting-edge device used to generate smooth, controlled waveforms for various surgical procedures. It's a versatile tool that can be used in a wide range of oral surgery applications, from complex extractions to delicate periodontal procedures.
This state-of-the-art generator offers a multitude of benefits to our patients. Its precision and control allow us to perform surgeries with a high degree of accuracy, reducing the risk of damage to surrounding tissue. This results in less post-operative discomfort and faster healing times.
Moreover, the SmoothWave i100 Generator is designed for efficiency. Its smooth waveform generation expedites surgical procedures, decreasing the overall time you spend in the chair and making your treatment experience more comfortable and convenient.
Work With Our Experienced Oral Surgery Team
We would love to help you overcome your oral health challenges. Each patient that visits us at Oral Surgery Michiana is given a personalized care plan that suits their needs. At our practice, you will always receive exceptional care backed by state-of-the-art technology to develop the most comprehensive treatment plan for your needs.
Please contact our office today to request a consultation.